I ended up on the ground, face-down, recalled victim Zachary Zander on the stand. I felt like people were trying to kill me. In September 2012, Zander and a group of friends headed to the Sleep Train Amphitheatre in Chula Vista to attend a country music concert featuring singer Jason Aldean. Photos and Videos Family Looks for Son's Attacker Zac Zander told police he was assaulted before a Jason Aldean concert at Cricket Wireless last weekend. NBC 7 reporter Chris Chan spoke to Zac's family about the attack and who might be responsible. for Son's Attacker Man Brutally Beaten Before Concert The parents of 25 year old Zac Zander are asking for the public's help to identify their son's attackers from the parking lot of Cricket Wireless Amphitheater before the Jason Aldean concert. More Photos and Videos Prior to the concert, Zander and his friends were tailgating in the parking lot when he got into an altercation with some Marines tailgating nearby. According to Zander, the confrontation quickly escalated and the group of Marines severely battered him. Zander was beaten so badly, he suffered several broken bones in his face and underwent reconstructive surgery. He was also treated for a broken leg, broken nose and chipped teeth. One of those Marines, Sgt. Raymond Sharkey, was charged with two felony counts of assault and battery, but pleaded not guilty. On Thursday, more than one year after the beating, Sharkeys preliminary hearing began in San Diego. As Zander took the stand and described the incident in detail, Sharkey sat in the courtroom, listening to Zanders testimony. Zander recounted how the Marines were allegedly bothering several women in his tailgating group, prompting him to step in and confront the men. He said Sharkey was the first Marine in the group to punch him in the face.
Concert review: Brian Stokes Mitchell gives PSO Pops a great start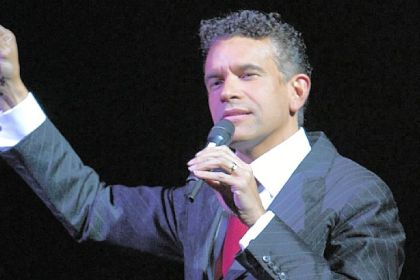 Bernhardt joined Lee's School of Music in the fall of 2011 as an artist in residence and conductor of the Lee Symphony Orchestra. Mr. Bernhardt also serves as music director emeritus of the Chattanooga Symphony and Opera and Principal Pops conductor of the Louisville Orchestra. He was formerly the music director and conductor for 19 seasons with the CSO, and is the first to hold the title emeritus. He is also a frequent conductor for the Boston Pops Orchestra and the Edmonton Symphony Orchestra. The concert is free and open to the public. For more information, please contact the School of Music at 614-8240 or email music@leeuniversity.edu. October 17, 2013 Lees Choral Union To Present Fall Concert Oct. 24 Lee Universitys Choral Union will present its fall concert, My Song in the Night, under the direction of Assistant Professor of Music Dr. Cameron LaBarr on Thursday, Oct. 24, at 7:30 p.m. in the Lee Chapel. Assistant conductor Lamprini Lindeman will also be conducting on the concert. The concert will feature Gabriel Faure's Requiem, Benjamin Britten's Jubilate Deo, … (click for more) Dr. Jason Farris Plays Organ For Music At Saint Paul's Artist Series Oct. 27 Dr.
Concert review: Selena Gomez keeps things classy at Barclays Center date of 'Stars Dance Tour'
And they're now, at either 20 (Miley) or 21 (Selena), engaged in parallel pursuit of a more mature approach. Gomez' first adult CD, "Stars Dance," came out in July and opened at No. 1. Even so, Gomez began her Barclays display with two songs from her more doe-eyed past, "Bang Bang Bang" and "Round & Round. What followed didn't stray too far into anything edgier or more evolved. James Keivom/New York Daily News The 'Come & Get It' singer's staging wasn't flashy. RELATED: SELENA GOMEZ DATING UNION J BAND MEMBER GEORGE SHELLEY: REPORT The Texas-born singer kept her patter chaste and her demeanor beamy. That dovetailed well with the crowd, who fell mainly in the low-teen range, accompanied by their doting parents. Gomez did stretch a bit in her choreography. The show featured lots of athletic dance moves, which she executed with rigid resolve. Eight dancers backed her. Even so, her staging wasn't flashy. No one flew through the air and nothing exploded. Gomez's vocals didn't offer great heat either.
"I love my job," he said Thursday night as he opened the PSO Pops season. He rattled off a couple of professions that seemed like work to him before asking, "And what do musicians do together? They play." His playmates included conductor Ted Sperling, a newbie to Pittsburgh who has shared the joy with the headliner for hundreds of concerts and on Broadway for "Ragtime" and "Kiss of the Spiderwoman," and pianist Tedd Firth, his accompanist on the album "Simply Broadway." Mr. Mitchell's incomparable baritone was on display for the opening of four Pops concerts titled "Broadway and Beyond," with a mix of songs representing his Great White Way songbook, including "Ragtime" and "South Pacific." He morphed with ease through a range of music and characters, such as "How to Handle a Woman" from "Camelot" and "It Ain't Necessarily So" from "Porgy and Bess." His version of "Stars" from "Les Miserables" rattled the rafters. Mr. Mitchell offered heartfelt explanations of the less well-known selections, such as "I Was Here," a song from "The Glorious Ones" by "Pittsburgh boy" Stephen Flaherty and Lynn Ahrens, and a lovely Maury Yeston song, "New Words," that he discovered when he became a father. Mr. Sperling and the orchestra started the show off by sticking with the Broadway theme on selections from "Carousel" and "Sweeney Todd" and were joined by Pittsburgh's All-Star College Chorus, who later appeared with Mr. Mitchell The show appeared to come to a close as the singer added "America, the Beautiful" to the great Flaherty-Ahrens song "Wheels of a Dream." His other great role and signature song, "The Impossible Dream," was not listed in the program, but … Impossible? No. Dreamy?